Getting older can bring many challenges, and not all of them are physical. More than 6 million Americans currently live with Alzheimer's, and this number is increasing. Memory care provides specialized support for seniors with Alzheimer's, dementia, and other cognitive issues—but how can you tell when a senior in your life is ready for a memory care program?
We've consulted with countless families over the years to ensure their loved ones receive the right kind of care for their needs. Let us help you understand the benefits of a high-quality memory care program, and show you how to recognize the signs that it could be right for a senior in your life.
What Does Memory Care Provide?
Memory care is distinct from types of senior care that generally focus on assistance with physical chores and tasks—including eating, dressing, or bathroom activities. In most communities, memory care residents who need this kind of help can still receive it.
It is vital for any responsible memory care program to prioritize this kind of training for staff, since increases in regulatory specificity for direct care workers directly reduces the likelihood of hospitalization for residents with dementia. If you are considering a memory care program for someone you love, make sure it includes the following features:
Accommodations designed to promote accessibility and safety. Memory care suites should feature bright, natural lighting, complimentary color schemes, and large, clear print on any labels or signs.
Private dining facilities with nutritious fare. Strong memory care programs offer balanced and varied meals in a calm setting, and provide assistance for people who need help eating.
Supervised activities. Stimulation is vital for the well-being of memory care residents, but the program you choose must provide safe activity options under the care of trained professionals.
Comprehensive medical support. From help with managing and administering medications to regular health assessments and support groups for family members, a worthwhile memory care program should always maintain a commitment to the wellness of your loved one and the rest of your family.
Signs Your Loved One Is Ready for Memory Care
Knowing what to look for in a memory care program is one thing, but how can you tell that the time is right to try one out for a senior in your life? We recommend looking for the following signs: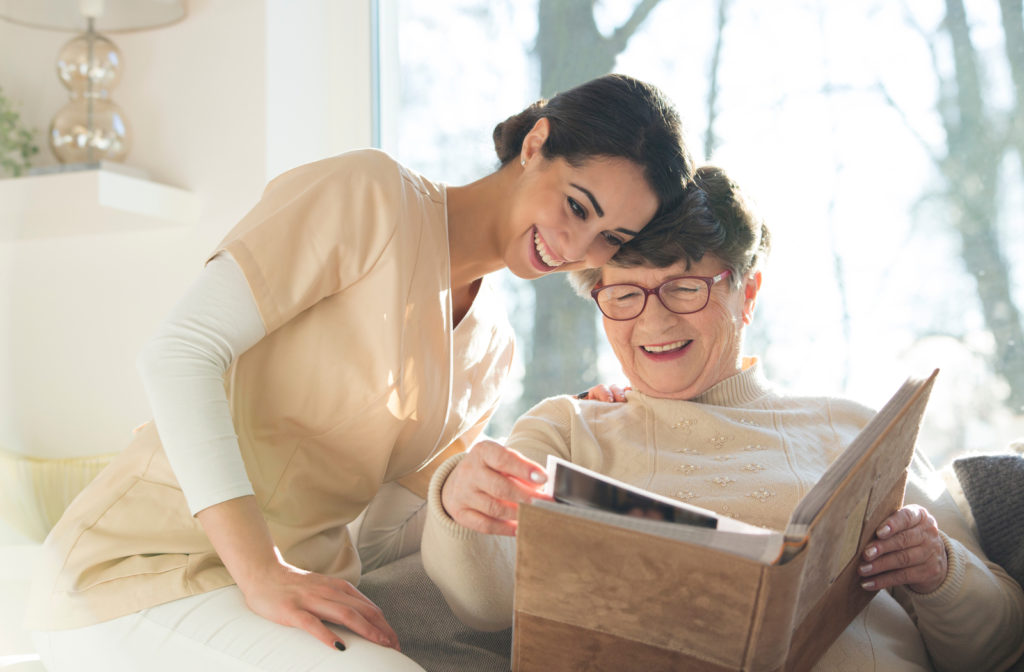 They Struggle to Care for Themselves
Memory challenges and cognitive problems might not reduce your loved one's independence significantly in the early stages. But it's often just a matter of time before they start to struggle with everyday tasks, from maintaining their financial responsibilities to simpler things like eating and bathing. When a loved one's ability to handle these basic matters begins to deteriorate, it's worth considering a memory care program that can provide support for these activities (and others).
You Notice Them Wandering
Seniors who can't remember where they're going or where they came from may be displaying telltale signs of serious memory problems. The same goes for seniors who struggle to follow a conversation or keep track of important information. If a senior in your life is demonstrating these tendencies, it may be time to begin thinking about memory care.
You Worry for Their Safety
As much as you might want to, you can't be there for your loved one all the time—you've got commitments to your job, the rest of your family, and to yourself. But seniors with Alzheimer's, dementia, and other cognitive issues can be at risk when left unsupervised, putting caregivers in a difficult position. If you're concerned that your loved one isn't able to receive the support they need under your care, memory care might be the best option.
Your Loved One Is Unhappy
It might be easy to assume that people experiencing memory problems don't know what's happening around them, but seniors with Alzheimer's and dementia still have rich and complex internal lives—and when they aren't receiving enough care or attention, they become unhappy. If a senior in your life is visibly upset by the challenges they're facing, they might be happier in an environment where people are trained to deal with those problems.
Talk to a Memory Care Specialist
The best way to know whether memory care is right for a senior you love is to talk about their specific circumstances with an expert in the field. To learn more about our memory care program and speak with an experienced member of our team about your loved one's needs, contact us today.